Temple Run 2 Answers by Imangi Studios
Temple Run 2 Cheats, Hints & Tricks
How to get awesome high scores playing Temple Run 2
Welcome to our Temple Run 2 page, we have decided to bring you some cheats, hints & tricks on the viral game! With over 100 million downloads, and thats just in the Android play store this fast growing game sure is popular.
With the huge success of Temple Run 1 defining mobile gaming, they bring you more running, turning, sliding and jumping. Mines, forests, cliffs and Zip lines in your way can you escape?
With not really a lot in the way of cheats, There are some good guides and tips available, There are hacks out there for the game but you have been warned that in some cases users have reported loss of game data etc, so we will not be held responsible if you try any of these out and lose your precious high score. Don't come winging to us because we just provide researched information we don't touch your device!!
Free coins before you start running.
You can gather free coins before you even start running! With the addition of social networks, simply head over to the in game store and Like temple run 2 on facebook or follow their twitter account by doing this you will bag an extra 250 coins! Not shabby eh :) (You should also get a free Gem for liking on Facebook)
This is their official facebook page www.facebook.com/TempleRun
To follow them on twitter twitter.com/TempleRun
Focus on the right upgrades!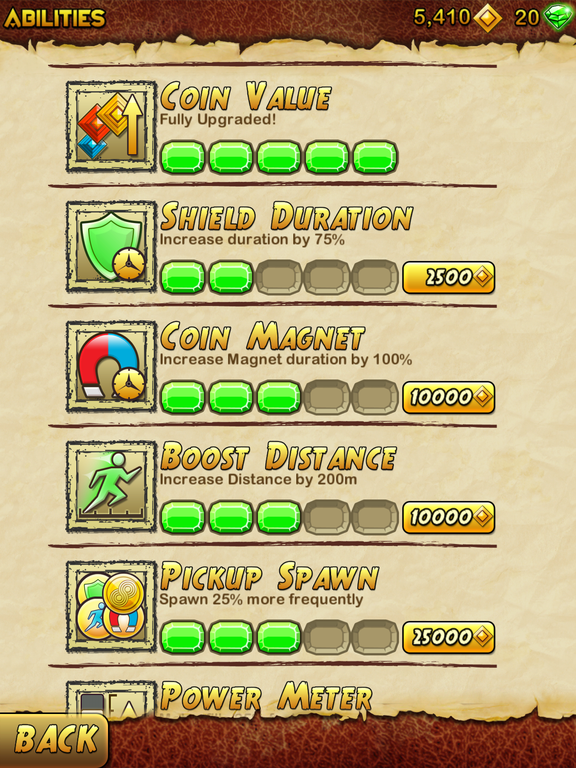 The upgrades are the defining point between getting a pathetic score or a beast of a high score on temple run 2. Navigate to the upgrades menu and attack your coin upgrades first! Of second most importance is the score multiplier and pickup spawn upgrades. Increasing these upgrades will help in gathering more coins, power ups and them BEASTLY scores you can show off about! The power ups will of course help out in more difficult levels. Please remember guys that if you can adapt on any of these methods or even add to them, you can contact us with your suggestions. These are just gathered from research we aren't always right.
Timing Jumps just right!
During your Temple Run 2 Gaming sessions you will be faced with "double obstacles" to jump across. These can be very frustrating and difficult, I'm sure a few phones and devices have been thrown about due to these! You have to time these jumps perfectly, at the very last second just before you spot 2 obstacles next to each other. Once you improve you should be able to just clear these in 1 single leap!
Ignorance is Bliss
This may seem like common sense to many of you but never the less it is for the best that you try to ignore the powerups that are placed next to a cliff or a pitfall. Well done to you if you manage to grab them but your chances of survival are slim and they are quite simply not worth the risk. The final score will be apparent if you do leave them!!
Leaning around the red tiles
The red tiles can be quite a pain in the backside and can take you out rather quick if your reaction times are lacking, you may get away with it sometimes if you just jump instinctively, but as the levels become more challenging the red tiles will be followed by obstacles. Rather than jumping them try to lean around them it will save you from landing on some spiked wheels.
Time your jumps to get the green diamonds

Green diamonds are very important for ressurection!

Keep the cart tilted

Always keep the cart tilted in one direction to have a better chance of survival

The shield is rubbish! Magnet is useful

You can activate a powerup as soon as you fill the coin meter, the default is shield which is useless as it only works with small walls, rollers and tiles.The best early powerup is the magnet this way you can earn more coins as well as focusing on playing.



The following video is from youtube and is among the most succesful of the cheats and hacks for Temple Run 2 however we will not be held responsible for you downloading any external software, or hacking your device. Doing this has lost people their saved game data etc. Dont come crying to us if it doesn't work. Follow the steps on the youtube link.
Our website is not affiliated with any of the games mentioned on our website. All intellectual rights are owned by Lotum Gmbh, GameCircus, RedSpell & Itchmania. None of the mentioned companies endorse our website or have any affiliation.